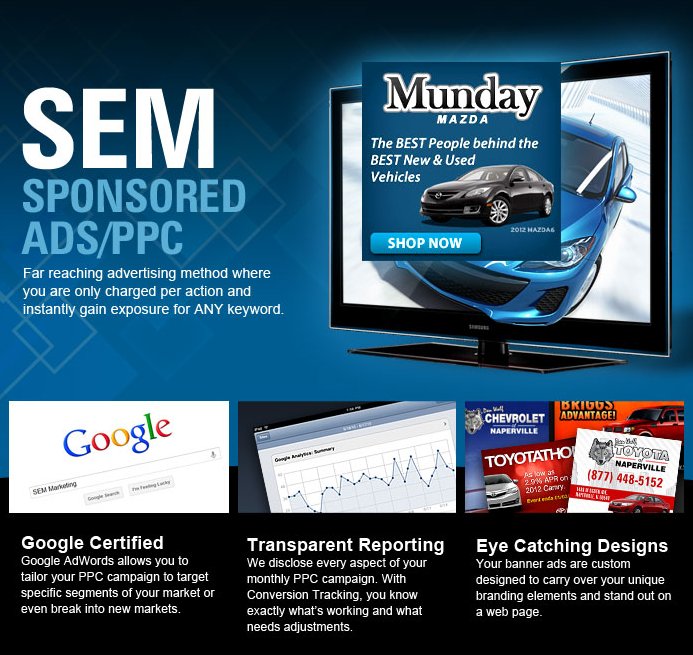 USE THE
EXPERTS
Let us send you a free customized proposal for your city, brand and dealership.

SPONSORED ADS/PPC
Research geographic location and demographic of potential audience to tailor their campaign
Keyword research to determine suggested monthly spend and set
Continually refine, test, and report campaign to Maximize ROI
REMARKETING
Remarketing is one of the many newer Google AdWords feature that enables you to retarget people who have previously visited your dealer website and shown interest in your brand or current inventory. Your website drops a cookie on your visitors computer and remarketing shows those visitors 100% relevant ads when they visit other sites on the vast Google Display Network. Whether you're looking to increase sales activity on your dealer website, increase leads or simply promote your brand awareness in a cost effective manner, remarketing can be a very profitable component of any new Google AdWords campaign.
Segment website visitors into groupings by site behavior
Design a custom banner ad to target each specific grouping
Split test advertisements to ensure maximum click-through
Search and display together provide a 22% conversion rate lift over search alone.
98% of visitors on site leave without converting.
Interested in a Product or Service?
DealerFire knows their stuff and are here to help you. If you have any questions about our products, services or need some helpful advice on your SEO strategy just drop us a line and we'll be in touch to help you sell more cars online!
Talk to our product specialists
(877) 828-9719
Chat Live